Swimming school
Would you like your children to learn to swim?
Sign them up for our swimming school!
REQUEST INFORMATION
At Brains Nursery schools in Madrid we have a clear goal: to help children develop their abilities and skills, creating an environment in which they feel comfortable and have fun, because there is no better way to learn than by enjoying.
One of the keys to the development of rational and emotional intelligence is to practice sports, making exercise fun, so it does not feel like a burden. In this way, in addition to all the direct benefits of practising sports, and especially swimming, we will be helping them to acquire some healthy lifestyle habits which will likely endure over time.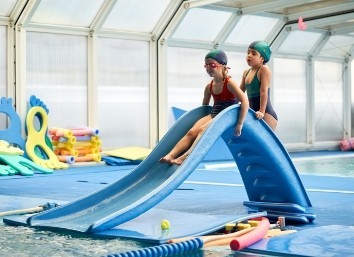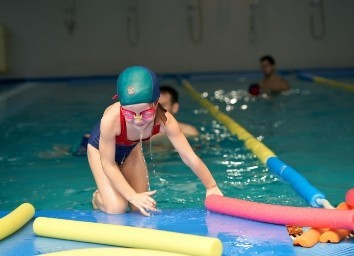 Why is swimming a suitable exercise for children?
Swimming is one of the most comprehensive sports, as it involves all the muscles of the body, strengthening it and reducing a large number of risk factors, among which is cardiovascular risk, as the Spanish Heart Foundation points out.
Discover the benefits
of swimming for your child



It prevents overweight and obesity.
It lowers blood cholesterol concentration.
It improves psychomotor skills (coordination, balance…).



It improves self-esteem, which in turns helps to develop
their intelligence by awakening their curiosity and confidence.
Its helps with integration and socialisation through play
and fun.
It teaches survival skills.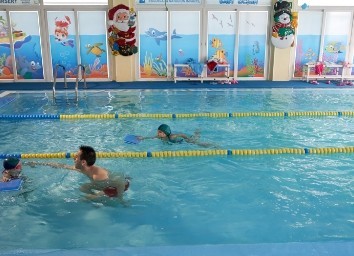 Would you like your child to learn to swim with us?
Do not wait any longer, request information!
At what age can children start swimming?
At BRAINS NURSERY SCHOOLS we have different types of swimming lessons for children. All of them are taught in our nursery school in Madrid, located in La Moraleja.
We count with professionals graduated in Physical Education, Physical Education Teachers, Psychologists and Pedagogues, with the aim of providing individualised teaching during swimming lessons for children between 4 months and 6 years old. This has a positive impact on the comprehensive development of the baby/child.
Matroswimming: 4 to 18 months
Early childhood: 18 months to 2 years old
Pre-initiation: 2 to 3 years old
Initiation: 4 to 6 years old